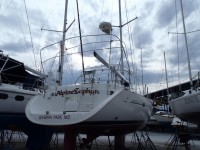 The Beginning – acquiring our sailing yacht
In the months prior, I did a lot of research on the type of sailing yacht I want. Options are many, including design type, seaworthiness, rig type, length, weight, layout, headroom, history of issues, reviews, age, condition, location, price, etc.
In summary, when it comes to choosing the boat, there is no perfect one, but there is a perfect compromise, for you.

During the purchase process of our yacht, we had few car trips from our home in Whitby, ON, Canada to Annapolis, MD, USA. Traveled through Ontario, states of Western New York, Pennsylvania and Maryland. Interesting trip in itself.

Annapolis seem to be the best place (at least in North America) to shop for a sailboat - many options available in one area.
Our first trip to US East Coast was to view our yacht, along with other potential candidates. We have found her at Annapolis Yacht Sales.