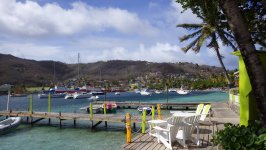 Admiralty Bay, Bequia, Grenadines
Sailing from St. Lucia to Bequia, we passed by St. Vincent island - after doing some research I have decided not to stop there.

The Bequia Island is liked by many. The Admiralty Bay is fairly protected, and the Port Elizabeth town is small but active. There are several stores, fresh produce market, marine services, etc.

When fishermen come ashore with their catch, they blow a conch horn. We bought fresh red snapper from them couple times.

The Princess Margaret beach on the south shore of the bay is very nice, with soft bright sand.

We stayed for several days in Admiralty Bay, and after filling up our water tanks from the floating water supply boat, we sailed to our next destination.