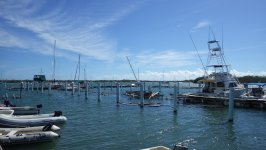 Pueto Rico After Hurricane - South Coast
This haul-out season was different than any other. Two major hurricanes hit the Caribbean, back to back - Irma and Maria. Virgin Islands and Puerto Rico are devastated.
The eye of the hurricane Maria passed over or near the boatyard where our yacht was hauled out on land. Thankful only to frantic calls to a contractor at the yard to strap our yacht, she has survived with no serious damage. Many other boats in the area were damaged irreparably.

Also, in the midst of local chaos and desperation, our yacht was broken into and some items were stolen.
Several days later, my old dinghy outboard motor had died - neither me no local mechanic could fix it to work properly. So I got myself an expensive present - a brand new Yamaha motor.

Oh well, as unpleasant it may be, all of this is a part of cruising life I've signed up for. So, pick up, fix thing, pay for stuff and move on.

So we continue our travels, going west, making some repairs on the way.

We've visited several anchorages on the Puerto Rico's South coast.
La Paraguera's weekend life is fun, especially at night - live music on the streets, people dancing and having a good time.
Spent a day visiting a water park and snorkeling the nearby mangrove islands - very nice.