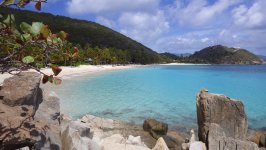 British Virgin Islands
We didn't stay long second time around in BVI - visited only few places we had missed the last time.

I didn't find BVI very appealing for a regular cruiser. The whole place is geared toward boat chartering business - en masse, they go from one mooring ball to another mooring ball, from one restaurant to another restaurant, using boat as a mean of transportation.

Things are expensive here and mooring balls at USD $30 per night take over best places, leaving very few good spots to anchor.