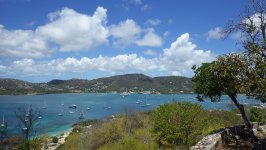 Antigua
This was our first visit to Antigua. Our daughter with her boyfriend joined us during one of the weeks we were here.

Antigua definitely shows its British heritage. There are many historical places, like Neilson Dockyard and several forts protecting harbours.

Anchorage range from busy local towns and touristy places, to quiet and secluded beaches and small islands.

Riding local commute buses around the island is cheap and fun. Marine services and shopping is good.

There are also some fairly secluded places, nature reserves, mainly in the North and East. We couldn't visit one of them, Devil's Gate - there was a movie crew filming scenes there - it occupied the entire place and did not allow us go and explore it.