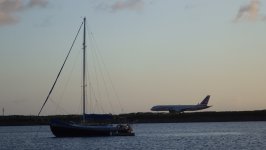 Brewers Bay, St. Thomas
This was our first landing in US Virgin Islands, on the South West side of St. Thomas. Majestic hills hanging over the bay, lively fish and some pelicans.

It is a calm and welcoming bay... behind an airport runway. There was a bit if noise from the planes taking off and landing, but strangely it didn't bother us much, rather entertained.
The bay has a nice beach and a short walk to the inexpensive $1 Safari ride to the town and around the island.