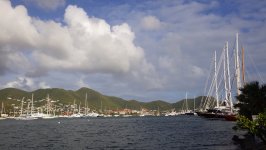 Simpson Bay Lagoon, Sint Maarten
One of the unique features of this island is that it is divided between two nations: the Dutch side - Sint Maarten, and the French side - Saint Martin. Once cleared in with customs on either side, you can freely travel between two parts of the island.

Another feature of the island is that it has a large well protected lagoon inside, also belonging to both nations.

The island has the best marine services in the Caribbean. There are many stores and prices are quite reasonable for the region. Plenty of restaurants and shops.

On the down side, you have to pay for using the opening bridges and weekly lagoon fee.

We stayed here for a week. Although the place does not have much character, we liked it.