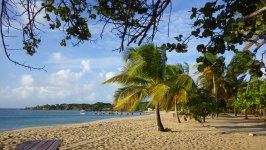 Cruising Grenadines
As we going back the Caribbean Islands chain northbound, we revisit places we liked, skip ones we didn't, and look for places we missed on our southbound trip. Since many of them are repeat visits, there will be fewer details here.

We checked-in at Clifton Harbour on Union Island.
Visited a unique but expensive bar on the tiny island, called "Happy Island". The island was man-made by the owner, from corals and conch shells.

In Grenadines, we really liked the beach in Saline Bay, Mayreau. Back in June, in low season, the place was quiet, with calm seas and virtually no visitors.
This time, we are here in high season. There are quite few boats at anchor, and over the week of our stay here, we had only two days when there were no crowds brought by the cruiseships. Also, the north swell at the tome made it somewhat uncomfortable.
Nevertheless, we've managed to have quite decent Christmas Holidays there.

New Year we celebrated in Bequia. The fireworks were quite spectacular, rivaling some we've seen back home in Canada.